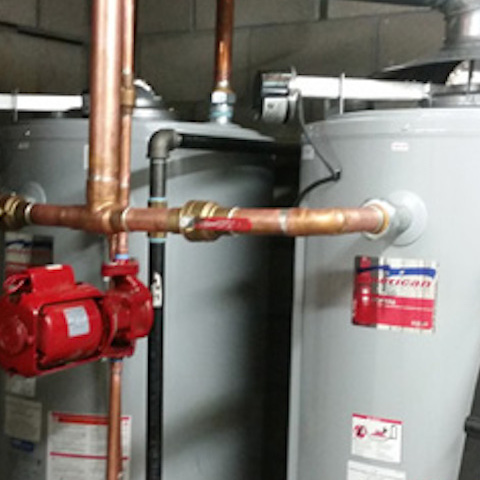 Are You Ready for Your Water Heater Replacement?
Is your water heater making strange noises, not working properly, or leaking? If so, it's time to get an excellent plumbing company on the case. Our team would be more than happy to assist you when it comes to your premier water heater replacement in Chattanooga, TN. When you reach out to us with a phone call at (423) 855-1212, you can rest assured that we will get our number one plumbing staff on the job immediately. After recording all of your relevant details, we will show up on time, and as scheduled. You deserve piping hot water for your hygienic purposes. Please don't hesitate to reach out to Roto Rooter Plumbing & Drain today.
The Benefits of a Brand-New Water Heater
If your water heater hasn't received the routine maintenance it needs, invariably, it will age faster and won't perform as well as it should. Over the years, lack on maintenance and repairs will manifest in a water heater that is inefficient and ineffectual. That's why it's important for you to schedule routine water heater maintenance so that you can truly understand how long you can expect your water heater to hold up. A brand new water heater can deliver hot water on demand, and will be arguably more energy efficient than your previous unit. With a new water heater, you won't have to worry about whether or not you will have enough hot water for your bath, or whether the water will be clear when it runs through your tap. Our plumbers will be happy to deliver an excellent water heater replacement for your home or property as soon as you give us a call.
We Will be Open and Honest Throughout Your Plumbing Process
We understand how difficult it can be when it comes to making executive decisions for the household. That's why we guarantee that when you reach out to our plumbing company, we will be as open and honest as possible about the process so that you don't have to handle any unexpected costs. Please don't hesitate to reach out today if you need plumbing services. As a matter of fact, we can help with septic pumping, and field-line replacements as well!
When you need a speedy and efficient water heater replacement in Chattanooga, TN, you can call us. We are available at our phone number, (423) 855-1212.