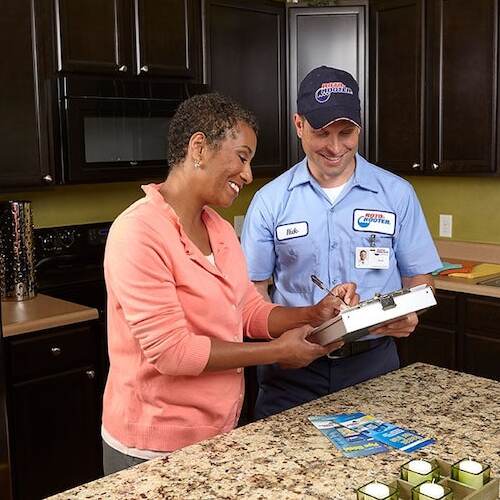 Reliable Drain Cleaning Services
At Roto Rooter Plumbing & Drain we are available all day and all night. From routine maintenance to the midnight emergencies, just call anytime 24/7 for drain cleaning in Chattanooga, TN, sewer, pipe, water cleanup and more. Drain service includes downspout, floor drains, sewer drains and storm.
We have been servicing drains in Chattanooga for over 75 years. Technology has come a long way in that time. We remember the first simple drain cleaning machines, now we use advanced versions with small blades the help clear blockage and maximize water flow.
The Roto Rooter Plumbing & Drain brand is a leader in plumbing industry by cleaning more sewer lines and drains than any other plumbing company in North America. We offer commercial and residentials calls and take care of stopped up kitchen drains, hard to clean bath drains, outdoors drains and sewer lines and more. We are open 24 hours to take your plumbing emergency any day of the week and even holidays. Call us at (423) 855-1212 today.
Kitchen Drain Repair & Cleaning
Kitchen Drain Repair & Cleaning
Over time, kitchen drains can run more slowly and eventually clog as greases, soaps, fats, and detergents build up inside pipes. If you find yourself facing a clogged kitchen drain, a Roto Rooter Plumbing & Drain service technician who specializes in plumbing services will use a Roto Rooter Plumbing & Drain sink machine to cut through the clog, remove the debris, and restore your clogged kitchen sink drain to full functionality. As a leader in drain cleaning services and sewer cleaning, you can rely on Roto Rooter Plumbing & Drain's experience to solve your kitchen drain issues.
Kitchen drains are one of the most used drains in the home, and as time passes they will sooner or later build up soaps, grease, and fats in the pipes. Roto Rooter Plumbing & Drain uses a special sink machine that breaks through the blockage and clears the way for easy flow from your sinks. Call us now for fast service at (423) 855-1212.
Bathroom Drains
Bathroom Drains
From showers and tubs clogged with hair and soap buildup to sinks filled with toothpaste and other grime, bathrooms present many challenges when it comes to keeping drains free and clear. Even toilets can be overwhelmed with toilet paper or non-flushable materials. Regardless of the challenge, Roto Rooter Plumbing & Drain plumbers have all the equipment necessary to address clogged bathroom drains and can provide expert sewer cleaning and drain cleaning in Chattanooga, TN services.
Bathroom drains are notorious for getting clogged. One of the toughest jobs in the house for a pipe, with toothpaste, hair, soap residue, and other grime. But we carry the right equipment to get your bathroom pipes clear and moving like new again. Let Roto Rooter Plumbing & Drain restore your bathroom pipes' former glory and call us right now
Bathroom Sinks
Bathroom Sinks
If you have noticed your bathroom sink draining more slowly over time then you have a clogged drain. soap residue, make up, hair and other undesirables all play a part in stopping the flow. Our technicians are standing by now to get your bathroom sink working properly again. For tips on how to do it yourself and keep it clean, check out our videos on Youtube and our site.
Bathroom Drains
Bathtub Drains
A bathtub drain that's backed up is not only very messy, but it can create a big issue for your family. Hair, soap residue, and sometimes small items like jewelry and toys can create a hard to clear the clog. Smaller clogs can be cleared with a store-bought snake or plunger, but hard to clear clogs require a professional with professional equipment. Roto Rooter Plumbing & Drain technicians carry all the necessary equipment to clear even the toughest clogs.
Floor Drains
Floor Drains
Drains that are located in utility-style rooms like the wash area or basement areas play a very important role in your plumbing. We service all kinds of heavy-duty drain fixtures including basement drains. Garages and patio drain, if clogged, can create damage to other areas of the house. Our technicians can locate the problem and clear the debris that is causing the backup. Check out the Roto Rooter Plumbing & Drain Youtube channel for tips on how to and maintain a clear and healthy drain system for your home and business. Roto Rooter Plumbing & Drain is your utility drain cleaning expert and ready to help 24 hours a day.
Outdoor Drains
Outdoor Drains
Although Roto Rooter Plumbing & Drain is well known for clearing and repair your indoor plumbing, we are also Chattanooga's outside drain experts. Outdoor debris and refuge can clog sewer drains causing a costly problem for your home. We staff professional draining experts that can clear and repair sewer drain related issues. Call Roto Rooter Plumbing & Drain and let us minimize damage and restore proper sewer drainage.
Commercial Drains
Commercial Drain
The pros atRoto Rooter Plumbing & Drain have been repairing commercial drain systems for decades. Our technicians know how to solve the issues that commercial buildings experience. From repair to replacement, commercial facilities experience a wide array of issues that we are well experienced with.
Commercial Sewer Drains: Running a busy restaurant or food preparation business means you have a lot of organic matter and grease running through your pipes. And that can cause a problem over time. Drains and lines have to be clean or you can't do what needs to be done. Roto Rooter Plumbing & Drain offers many ways to clear and repair commercial pipes and drains including jetting. Don't trust your business with a fly by night outfit, call the professionals at Roto Rooter Plumbing & Drain and make sure it's business as usual.
Commercial Sink Drains: Buildup is something all commercial drains have to deal with, but there is a way to keep it at bay. Roto Rooter Plumbing & Drain Drain & Grease Trap Treatment is an earth-friendly method to keep your drains clear. Through scheduled treatment, your drains don't have the chance to buildup and clog like normal. Keeping the buildup to a minimum can also help with unpleasant odors. Give us a call and find out how Roto Rooter Plumbing & Drain treatment can help your business.
Commercial Storm Drains: Similar to residential, commercial buildings rely on drains to carry water away from the structure and prevent inconvenience and damage. Heavy rains create a lot of debris that can lead to flooding and other damage. Roto Rooter Plumbing & Drain is ready 24 hours a day to clear drains and keep your commercial property running smooth.
Residential Roof Drainage
Residential Roof Drainage
On a typical home, your gutters will direct the water flow away from the home through channels that are connected to underground to city gutters or larger storm drains. If these become blocked with roots and other debris it can cause damage to the structure with excessive moisture and flooding. While we don't clean gutters, we are experts at keeping your system flowing correctly. Call us if you ever have an issue with your outdoor drainage systems.
Commercial Roofing
Commercial Roofing
Commercial roofing differs widely from residential style roofs. Whether it's pitch controlled or flat, Roto Rooter Plumbing & Drain knows how to get them draining properly.
Flat styled roofing have drains located around the perimeter in most cases. Those drains are connected to piping leading underground. We have special machinery to clean these systems and returning flow to prevent backflow on the roof.
Pitch style roofing usually requires cleaning of vertical pipes connected to city storm drains. Roto Rooter Plumbing & Drain has the experience and knowledge to return your commercial systems to full drainage, call today at (423) 855-1212, and schedule a consultation for drain cleaning in Chattanooga, TN.