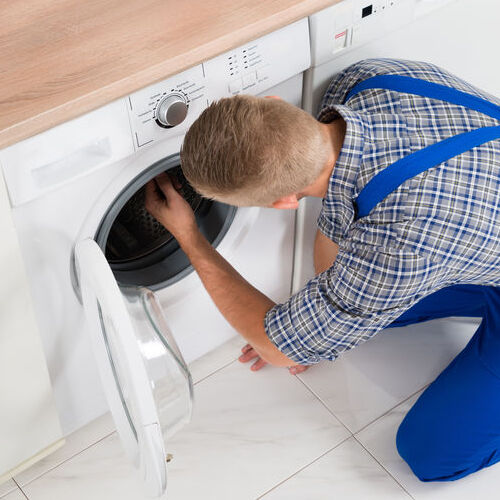 We Have Experience With Washing Machines
Washing machines are essential in our daily lives as they are the machines that clean our clothes and various other materials. When they are behaving strangely work loads are put at a halt which can be very inconvenient. Roto Rooter Plumbing & Drain is here to provide you with assistance when it comes to washing machine leaks & repairs in Chattanooga, TN. With our years of experience and knowledge with various washing machine models you can expect to have your system properly addressed and repaired as needed. Speak to us about your concerns at (423) 855-1212 and we'll be able to determine what may be done for you.
Problems That May Be Happening
Washing machines have become such a part of our everyday lives, it's difficult to imagine not having one. It's important to take care of your machine so it will run well for years to come. The good news is, it only takes a bit of awareness to keep it maintained, and you don't have to be a plumber for that. First, it's important to become aware of common problems that may come with your washing machine. Some problems to be aware of are as follows:
Washer won't turn on.
Washer won't spin and/or is agitated.
Doesn't dispense detergent.
Not draining properly.
There is leaking water.
Washer is shaking or otherwise moving.
Washer is smelly.
Noises are abnormal.
It's important to rely on a professional for any washing machine leaks & repairs in Chattanooga, TN. Only they will have the tools, equipment, and training necessary to safely and correctly handle a number of washing machine issues.
Washing Machine Fixes
Start by regularly checking the hoses. Old rubber hoses will begin to show signs of wear and tear. Consider replacing them with ones made of braided stainless steel. Made from much better materials, they will be less likely to leak. You should also keep an eye on your machine's water line. If you notice any changes in the machine, you may either have a problem with the washer itself or a clog in the line. You might have a problem with your washing machine's drain hose or need your laundry line unclogged. Either way, we'll send our professionals to test the problem and begin repairs immediately. So, call Roto Rooter Plumbing & Drain, we're ready when you are.
One issue common to washing machines is the debris that's removed from the load gets clogged in the drain line. Hair, lint, and pocket fuzz get tangled and cause a blockage. A simple fix is to place a strainer on the machine's hose to keep these materials from causing future problems. The pipes themselves may also get clogged over time with the same type of debris. We recommend applying Roto-Rooter Pipe Shield. This powerful product flows through the pipes loosening the buildup, removing gunk, and preventing future clogs.
Get Professional Help
The workers at Roto Rooter Plumbing & Drain are trained and certified to help with a number of washing machine models and issues that may be happening with them. We make sure that certain parts and connections are in proper condition and will make the proper efforts to fix any issues that are seen. Washing machines are a central part of our lives and an integral part of a home. Our team is here to help 24/7 for any emergency situations as well and will make an effort to come out to your property as soon as possible for services. Give us a call at (423) 855-1212 to speak with our friendly representatives regarding services with washing machine leaks & repairs in Chattanooga, TN. We look forward to assisting you.