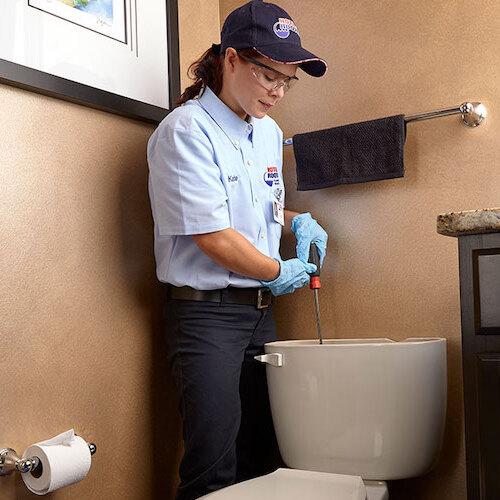 Get a Smooth Flow
Does your toilet always run? Does your toilet not have the flushing power it used to? Roto Rooter Plumbing & Drain can figure out what the problem is and fix it fast. We have the tools and equipment necessary to fix a number of issues. What's more, we also have new models of toilets to help with any new installation to upgrade your bathroom. Just give us a call at (423) 855-1212 for reliable toilet repair in Chattanooga, TN and other services. We have you covered with any of your toilet needs. Speak to us today to see what we may do for you.
Have a Better Working Toilet
A broken or poor running toilet can put a pause on your day in an inconvenient way. As there are different types of toilets available these days it's important to get a technician who is trained and familiar with the different systems on the job to help. Get the help that you require with your toilet to get it running once more. Our technicians are ready 24 hours a day to repair or unclog your toilet and pipes. We fix leaking toilets and can also install new ones. A fresh new toilet can have new upgrades and sleek looks that will be sure to make your bathroom that much more inviting. Roto Rooter Plumbing & Drain works on both residential and commercial properties so we'll be able to handle any system and provide good and operable conditions. Trust our team with your toilet repair in Chattanooga, TN and set up an appointment today.
Clogged Toilets
Clogged Toilets
If you have a clogged toilet your not alone. Bathroom problems with your plumbing are the most common. While many times a clogged toilet can be relieved with a consumer plunger, sometimes it takes a professional to handle a bigger problem.
Our professional staff is available 24 hours a day to take your call. We'll send a trained technician out to get your system operational again. We fix cracked and broken toilets and tanks, slow draining toilets, ones that do not flush as they should, leaking toilets, and more. Just call Roto Rooter Plumbing & Drain for the fast accurate repair of your toilet.
Running Toilets
Running Toilets
When you flush your toilet, it should stop running after it fills back up. If you have a toilet that runs constantly then you are wasting money. You may be paying for hundreds of gallons needlessly.
Corroded pipes, worn valves, and worn flappers are the usual culprits. So if you are having a toilet problem, give the pros at Roto Rooter Plumbing & Drain a call and put that wasted money back in your pocket today.
Toilet Installations
Toilet Installations
Toilet installation can be tricky if you've never done it before. It's best to leave this to professionals since unintended water leaks can cause other major problems throughout your house. Roto Rooter Plumbing & Drain plumbers are licensed and trained in proper toilet installation. They can get it done right and take care of other issues you may be having. Call us today and let us give you an estimate.
Leaking Toilets
Leaking Toilets
Just because a toilet is leaking doesn't mean you need to replace the whole unit. There are many small parts inside the tank that can be replaced for correct operation. Some of these naturally wear over time and is normal. Valves such as the flapper and fill can wear over time, gaskets around bolts can break down and the wax ring can adjust and settle as well.
Our plumbers can diagnose the issue and get it fixed fast for you, just call Roto Rooter Plumbing & Drain and one of our qualified technicians will come take a look for you today.
Commercial Toilets
Commercial Toilets
For a business, operational toilets and urinals are very important. Broken or malfunctioning toilets can leave a bad impression to clients. Plus, leaking pipes and toilets waste money and can damage your property. They also create slippery areas that can be dangerous. So don't let your customers have a bad experience, keep your toilets and urinals in proper working order with Roto Rooter Plumbing & Drain.
Commercial Toilet Parts
Commercial Toilet Parts
Roto Rooter Plumbing & Drain uses dependable, quality parts when repairing your commercial toilets and we can convert your existing system to a dual flush with ease. This can reduce your water usage by as much as thirty percent. We also have money/water-saving options for urinals, just give us a call for a free estimate at (423) 855-1212.
Commercial Toilet Installation
Commercial Toilet Installation
In addition to commercial toilet repair, Roto Rooter Plumbing & Drain plumbers perform commercial toilet installation for any brand and style of toilet, including:
Roto Rooter Plumbing & Drain are the commercial plumbing repair experts, but we also offer toilet installation services:
Standard
Tankless
Dual flush
High efficiency
Comfort height
Air assisted
Pressure assisted
Our plumbing professionals will recommend a commercial toilet, urinal or bidet that will work best in your setting—restaurant, school or university, hospital, apartment complex, office building, stadium and more—thereby providing long-term dependability and value.
Our technicians can suggest the right toilet for your long term needs. From apartment building to schools and office complexes call Roto Rooter Plumbing & Drain to find out how much you can save by choosing the right kind of toilets and urinals.
Call Us to Set an Appointment
If you are experiencing a problem with your toilet then give us a call at (423) 855-1212 today. Our team of trained workers at Roto Rooter Plumbing & Drain are here to help you with your toilet repair in Chattanooga, TN. For any emergency plumbing situations, we also offer 24/7 help for those unexpected cases. We understand that your toilet is a vital part of your property which is why we provide speedy and quality work. Having a well-running toilet is something that shouldn't be taken for granted. See how our team of experts can help with your property by speaking with our staff. Get started and improve your toilet today.